How to start your wedding dress preservation, cleaning and repair
Get Started:
Please choose an option.
Please choose one of two options,  you will be sent to the appropriate order form!
Select this option if you live close by and would like to drop off your dress or you are in contact with a representative who can pick up your dress from you.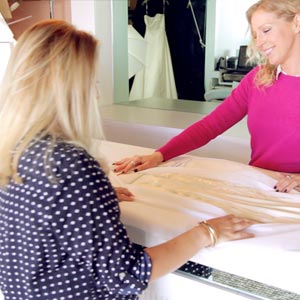 Dear bride-to-be,
Thank you so much for visiting us here at Elegance Preserved! Much like the experience of purchasing your gown, the cleaning and preservation of wedding dresses is a very personal service. A wedding gown is a cherished garment and our passion is to preserve your wedding dress memories for years to come.
There are many questions brides often have regarding cleaning and preservation. It is not a standard purchase and many sources of information can be confusing. Our goal is to make this process as simple and straightforward as possible.
We hope to answer any questions you might have so you feel confident in the process. We feel that communication is very important. Should you choose to move forward with our Elegance Preserved services you will receive constant updates on your gown's cleaning and preservation progress.
Before getting started, we highly recommend that prospective clients study our "Services" section of the website to better decipher what services they might need.
Take some time over on our FAQs (frequently asked questions) section as well, as you will be able to find answers to questions like: How much are your services? What is the average turnaround time for a cleaned and preserved gown? How do I get a quote for services needed?
To 'Get Started' on inquiring about Elegance Preserved services, please select from one of the following options:
Each option will require you to fill out an 'ORDER FORM' which will automatically be saved on file for you with our team. By filling out the 'ORDER FORM' you are not committing to any selected services. We only proceed with requested services after approval of your quote either by email.
We cannot wait to assist and preserve your beautiful memories with you! Please feel free to email us at: service@elegancepreserved.com or call direct at 800-539-9092 ext. 2 should you need additional assistance.
Thank you and we are excited to preserve the memory! It's really a very special service and we are honored to assist you.
Sean Gilmore, Director