Wedding Dress Preservation
Click the button to start the process for your wedding dress.
Wedding Dress Preservation
(Pricing – Link) The proper method for long term storage of your beautiful wedding dress after the ceremony is wedding dress preservation in our museum quality wedding chest, made out of acid-free and lignin free paper. In its simplest form, it is a bridal dress preservation box that safely stores fabrics for decades using materials that won't hurt fabric. The acid-free tissue paper is used to avoid hard folds in the fabric during storage and protect the dress elements from any cross contamination.
The wedding dress preservation materials we use are rated at a 1000 year life and are considered the best in the wedding industry.
We are often asked what items can be preserved during bridal dress preservation and generally veils, garter belts and related items are safe. However, we inspect the materials for components that might off-gas or hurt fabric during long exposure. In some circumstances it may be suggested that an item be held separate from the wedding dress preservation box and preserved separately.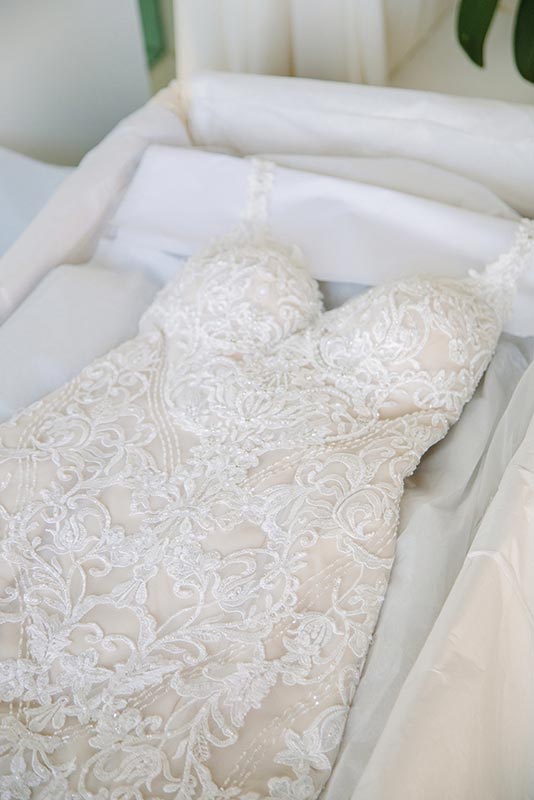 A preserved wedding dress in its wedding chest
Our Materials for Storage: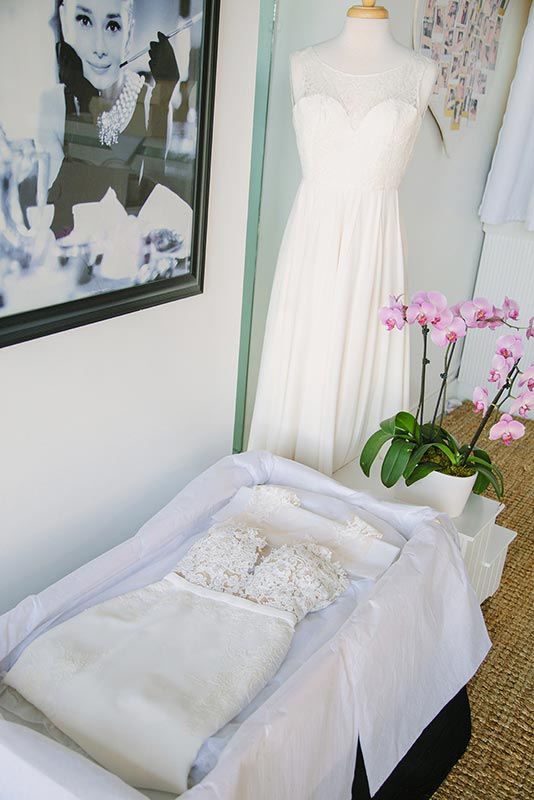 A preserved wedding dress in its wedding chest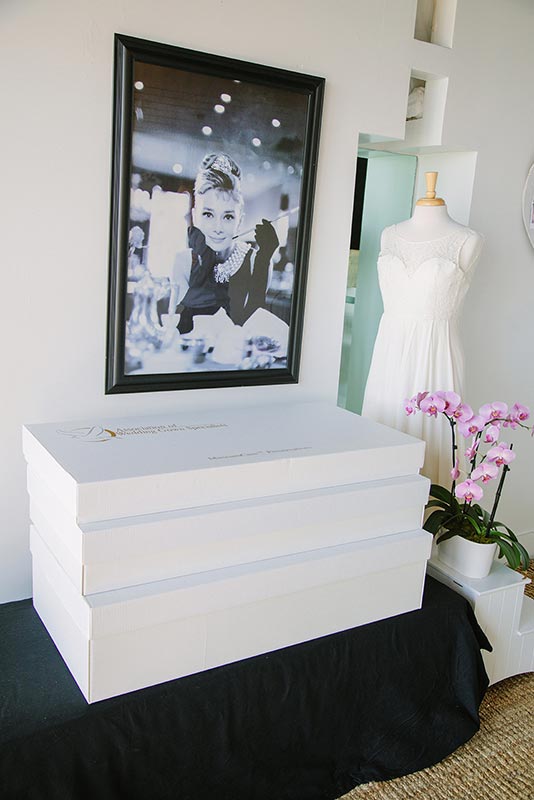 Preserved wedding dresses showing the three box sizes without the muslin cover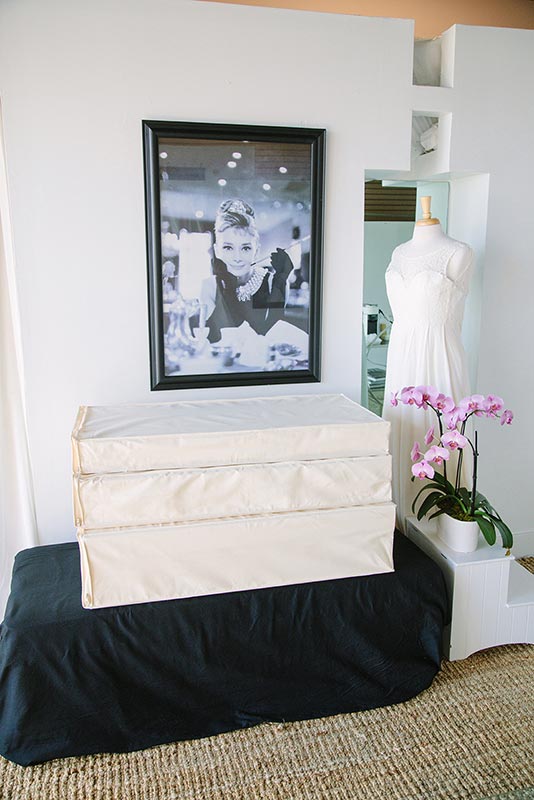 Preserved wedding dresses with their muslin covers. Small Medium & Large
We work with three sized wedding dress preservation boxes and choose the materials that are the most appropriate for your dress. We always strive to choose the smallest wedding chest for our customers, as smaller is considered more convenient. However, we always choose the best wedding preservation box for the needs of the wedding dress.
One final note, there is no element of bridal dress preservation that affects the fabric of the wedding dress directly. Wedding dress preservation is only the proper packaging and wedding dress storage materials. This means that if we are working with a resale bride, wedding dress preservation is not required.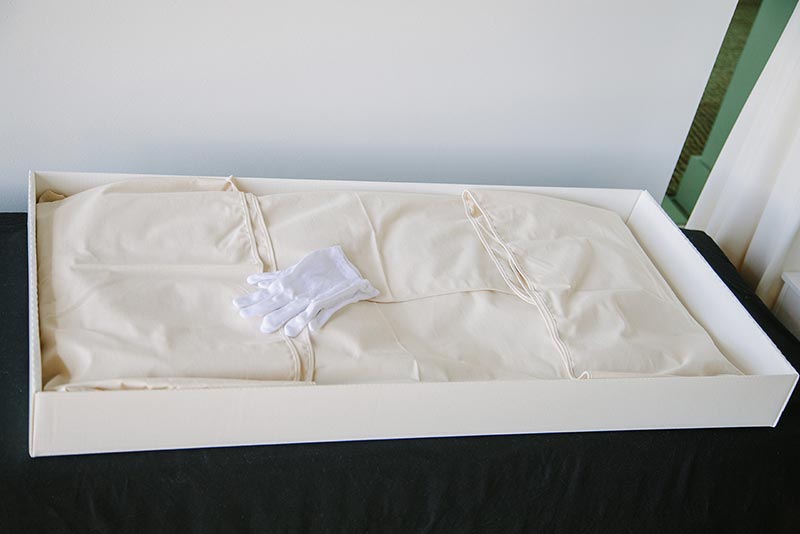 Preserved wedding dress with the lid removed and viewing gloves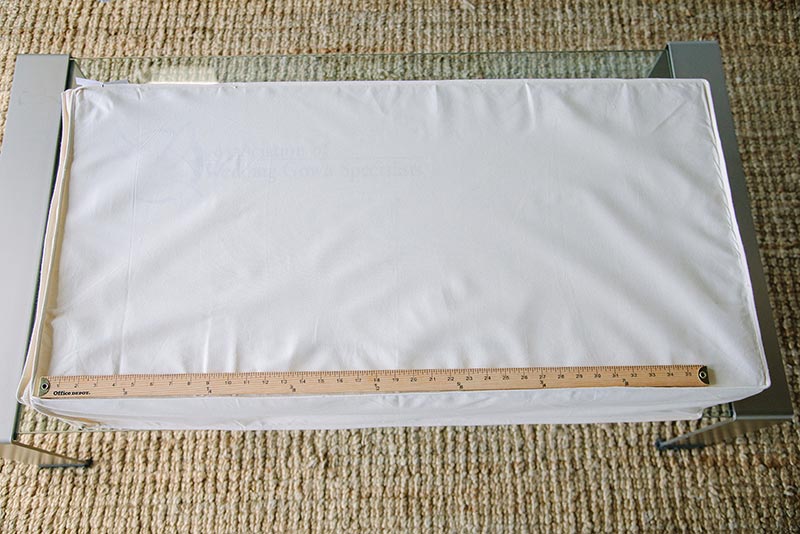 Preserved wedding dress showing size of the wedding chest. 20" wide by 40" long. Depths can change from 5", 7", 10" depending on the dress size
With our wedding dress cleaning service, inclusive of both wedding dress dry cleaning and wedding dress wet cleaning techniques, we do provide a protective wedding dress bag that is generally considered a proper storage solution for up to two (2) years. This industry answer is given due to the fact that many wedding dress designs, particularly the shoulder areas, can stretch with time if a wedding dress is hanging. This is, of course, either to a greater or lesser extent based on the weight of the dress. Proper wedding dress preservation avoids this challenge.
If one is going to save their dress, professional wedding dress cleaning and wedding dress preservation is the right choice for the proper protection of the wedding dress.  You can always open up the preserved wedding chest at home and inspect it. We provide cotton gloves for this purpose.
Finally, if you ever inspect your preserved wedding dress to a point that you are uncomfortable re-packaging it (or maybe a niece tries it on), you can always bring your dress and the original preservation materials back to our shop and we would re-preserve the wedding dress at no charge.