Wedding Dress Cleaning
We begin our wedding dress cleaning process with an evaluation of your specific wedding dress needs and proceed with the optimal solution: be it our hand cleaning techniques with a wedding dress dry cleaning rinse or one of a number of advanced wedding dress wet cleaning methods. The requirements for every bridal dress are different based on the fabric type and unique trimming such as beads or sequins. Furthermore, soiling levels can have an effect on the necessary wedding dress cleaning method to achieve the best result. These same techniques are also employed in our wedding dress restoration service. There is no substitute for experience with high end wedding dress cleaning.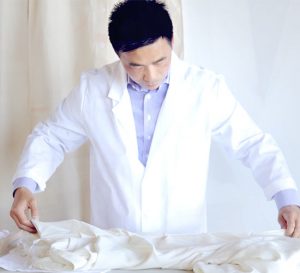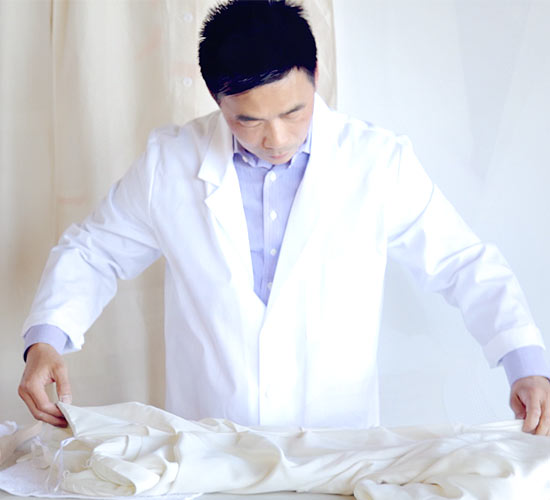 The presumption on the part of customers is often that the dresses are simply put in a dry cleaning machine. This, in fact, is where small dry cleaners with little advanced training can cause significant damage to high-end fabrics.  The simplest explanation is that untrained cleaners that have limited spot removal technique may put your improperly hand spotted wedding dress in their dry cleaning machines and when the heating portion begins they effectively lock in the staining. Furthermore, if their dry cleaning machines are not effectively maintained or they permit a varying number of garments such as red silk blouses (for instance) in their tanks, this dye can permeate their solvent and dye your beautiful wedding dress.
Our dedicated wedding dress dry cleaning and wet cleaning machines only clean one dress at a time in clean solvent. Every dress is cleaned in its own solvent bath. Our wedding dress dry cleaning and wet cleaning machines are also dedicated to bridal gowns, avoiding the threat of varying colors dyes in the machines to avoid any possible color contamination on high end wedding dress fabrics.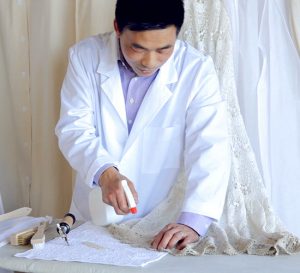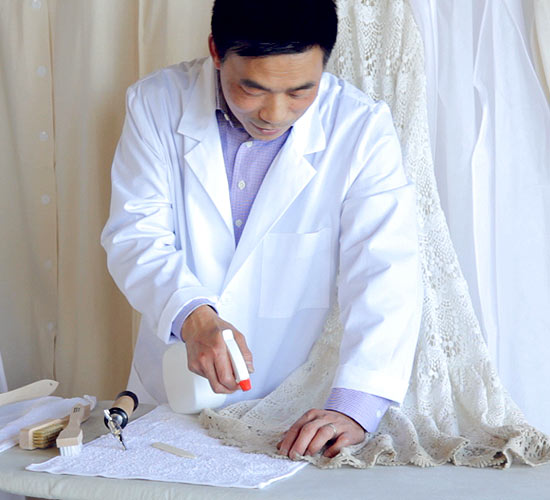 On all high-end soiled wedding dress fabrics, the element that sets a wedding dress preservation team apart and allows for the best outcome is the experience of the spot removal team. The soiling on delicate silks is all performed by hand and the time and expense comes from the remarkable amount of time needed to remove wedding dress staining. As an example, an aggressive heel mark that has driven soiling directly into silk fibers, and is only a quarter in size, can take upwards of 20 minutes for careful removal and protection of the fibers. The protection of the beading when wedding dress cleaning is also an art form, as the glues involved and often the beads themselves are often not solvent friendly.
Each dress is its own special project, and as a company we have dedicated ourselves exclusively to high end wedding dress cleaning. That is the type of focus required with high end wedding dress fashion.