Wedding Dress Preservation for Delayed Weddings Due to Covid
We hope to answer the question, "what is the best method for wedding dress preservation for delayed weddings due to covid?"  How do I best protect my recently purchase dress until my event.
The answer is, that it depends on your dress. There are some considerations. 
First, from our entire Elegance team, we want to say how much we feel for our brides with delayed weddings. We realize it has not been easy on anyone.

Here is what one needs to know:
First, it is best to define wedding dress preservation. Wedding dress preservation is the act of "preserving boxing up" a wedding dress in the safest materials possible for long term storage of fabric. Those materials are typically acid free tissue paper, with a safe muslin (pure cotton) lining as well as a muslin outer cover. The actual paper that makes up the preservation chest (box) should be acid-free and lignin-free. We also recommend the paper is fully acid-free and not with just a safe "paneled" layer. The main cost driver in preservation is the actual materials used for preservation.
"The safest way to store a dress is in a preservation wedding chest (box)"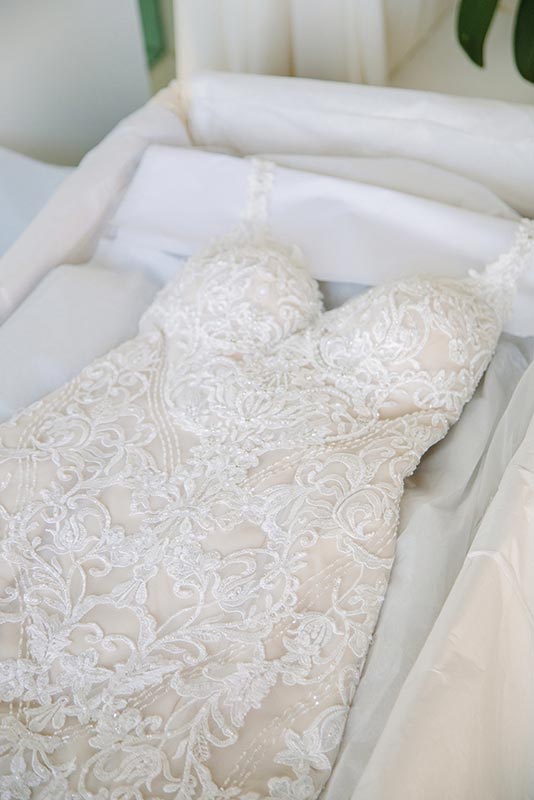 1. Will your wedding dress require a pressing when removed from the preservation chest/box, prior to the wedding?
If you preserve your dress, it will be folded. A goal of preservation is to avoid any "hard" creases. However, there may be a slight or prominent crease depending on the material. The simpler "Boho" style dresses normally do very well. A very thick silk may require a professional cleaner to remove any creases. If you preserve your dress, and you have a very thick material, there may be an added expense if you require a cleaner/preservationist to re-press your dress prior to your wedding.
2. Did you already have your tailoring performed?
If you have not yet gone thru the alterations/fitting process, it is good to know that most tailors will do a light re-press for your dress after their work. This will normally remove the need for a cleaner/preservationist level re-press prior to the event.
3. Is your dress heavy?
Some dresses are heavier than others. The concern with a heavier dress is that if it is hanging over time, it may stretch the fabric. This would normally suggest that "preservation" is the right approach for a delayed wedding. However, depending on the dress styling, you might also be able to "add straps" to the boning of the dress to allow for the dress to safely hang until your event.
4. What are your plans for the dress after your event?
We meet women that adore their dress and could never part with it. They are normally cleaning/preservation customers after their wedding. However, some brides do consider reselling their dress after the event. If you are considering reselling your dress, paying for preservation for a delayed event would truly be an "added expense". It might be worthwhile to find a hanging strap solution. Then again, some brides just want the added security of a box so that their fiance "won't see the dress". Preservation accomplishes that goal!
5. How do the Elegance Preserved preservation charges work?
Our normal pricing for preservation is approximately $198. However, this is not lost value if you intend to keep your dress after your ceremony. Our team will preserve your dress, and re-preserve your dress after the event at no extra charge if you keep your original preservation materials. Remember, the preservation materials are the main cost driver.
Our Elegance Preserved team does have a free home pickup and home delivery services in the Bay Area and in Southern California. We also have a national shipping service.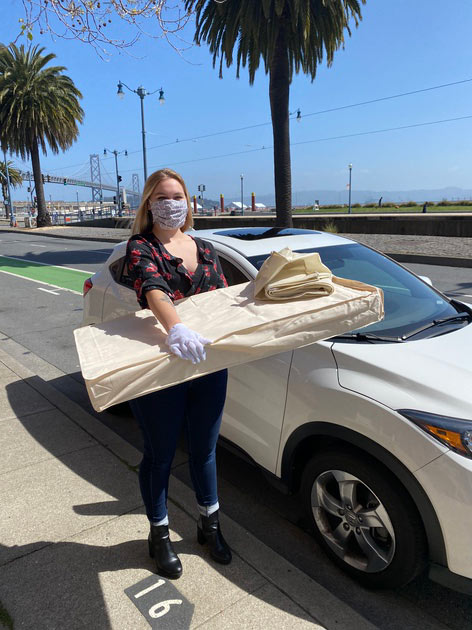 Please reach out to us with any further questions by texting us at 800-539-9092. We would love to assist!
Kate, Shop Team
Elegance Preserved